Haifu Home / Products / Haifu
High Intensity Focused Ultrasound (HIFU)
Haifu is a company founded in 1999 and headquartered in Chongqin, China, which is a leading manufacturer of non-invasive ultrasound therapeutic systems for both malignant and benign tumors
Haifu Benefit
First non-invasive high focused intensity ultrasound Tumour therapeutic system
Safe and cost effective
Minimally invasive that make less injuries than major operations
less trauma from operations
recovery time faster than other approach
excellent and efficient outcomes and results
recognized in world-wide approved therapy (Singapore, UK, Japan, Canada, Russia, Australia, Korea, China )
Solid tumors of soft tissues such as liver tumor, uterine fibroids,
breast cancer kidney tumor, pancreas tumor, bone tumor.
Nonivasive treatment to preserve organs and structures, with no blood transfusion and no radiation
Conformal and precise ablation
One time treatment and no limitastion by tumor size and shape.
Real-time ultrasound therapy with digital quantitave analysis.
Activation of Immune system.
Tumors in air-containing viscera, such as Lung, Stomach and bowel.
Mediastinal tumors
Spinal Tumors
Precise Boundary
Precise Dosage
Precise Control
High-Frequency Generator
Integrated Transducer
6-Dimension Motion Devices
Ultrasound Monitoring Device
Therapeutic Control Part
Water Treatment System
Safety Protecting Device
Clinical Case
51 yr old man with primary HCC. Ct image show large tumor adjacent to major hepatic veins. Enhanced MR images shows no enhancement in treated region and no damage to hepatic vein 2 weeks after HIFU. The 5 year survival rate of patients with small liver tumor(diameter<3cm) treated by Haifu Focused Ultrasound Tumor Therapeutic System is up to 72.73%. Nearly half of the patients with middle-later stage liver cancer can survive more than 1.5 years. Even for the patients whose tumor is surgically unresectable, Haifu's clinical solution brings hope to them by prolonging life-span and improving the quality of life.
Patient: female, 57 years old, kidney tumors in both sides.
Enhanced MRI indicated the tumor in the r
Haifu's Focused Ultrasound Tumor Therapeutic System can ablate and necrose the tumor while preserving the normal function of the remaining part of the kidney. So this solution is suitable for the patients whose tumor is surgically unresectable, especially for that located in both kidneysight side shrunk obviously after HIFU. The left side which did not receive HIFU showed no change.
Without surgery and bleeding, Haifu's Focused Ultrasound Tumor Therapeutic System can ablate and cause necrosis to uterine fibroids and keep the integrity of the structure and functions of uterus. This technology is especially suitable for patients with small fibroids and no symptom. It enables the treatment of small fibroids before they get too large and too severe. Additionally, HIFU treatment if repeatable. Patient: 50 years old, single fibroid in anterior wall of uterus. After HIFU, color Doppler ultrasound indicated that the blood perfusion completely disappeared with normal vascellum around the fibroid region.
Patient: female, 46 years old, right-sided breast cancer. Before HIFU, MRI showed the tumor with rich blood perfusion and the size was around 10mm. The ablation range was 30mm; after the ablation, blood perfusion disappeared in the target region completely. For early breast cancer, Haifu's Focused Ultrasound Tumor Therapeutic System can preserve breast as effectively as surgery by an increasing the volume of thermal ablation. For middle-later stage breast cancer, HIFU alleviative treatment can reduce local tumor burden and cause necrosis to the metastatic lesions. When combined with systemic chemotherapy, radiotherapy and endocrine therapy, it can prolong patients' life span and improve their quality of life.
Patient: female, 46 years old, tumor located in the tail of pancreas. Superior-inferior diameter:34mm, left-right diameter: 39mm, anteroposterior diameter: 25mm. After HIFU, MRI indicated that the largest part of the tumor was necrosed. Pancreatic tumor is a malignant cancer with bad prognosis. When diagnosed, most patients have already been in advanced stage, hardly suitable for surgery and other solutions. Haifu's Focused Ultrasound Tumor Therapeutic System and clinical solution can reduce tumor burden and release pain effectively, improving patients' life span and quality of life
US patent
Canada patent
Japan patent
Russia patent
Singapore patent
S Korea patent
Australia patent
CE certificate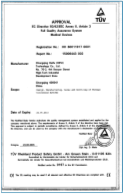 CE certificate
CE certificate